The BHL workflow in a nutshell!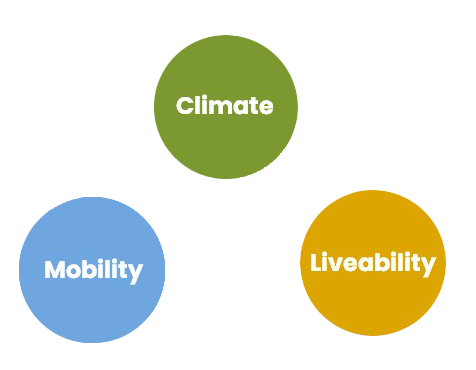 BHL projects start with scientific research on local urban climate, population health status, and neighborhood environments.
We find out how health problems associated to the urban environment such as allergies, heat-related illnesses, inflammatory diseases, mental diseases and many others can be stopped or reversed.
Our research services assist decision-makers and technical teams side by side in developing evidence-based projects for health.
Urban Health Evaluations

Transdisciplinary Workshops

Co-creation Platforms
2. Healthy planning
& Design
BHL plans and designs for everyone!
The way of doing it is prioritizing children, the elderly, and people with cognitive or physical disabilities, whether it's in public spaces or buildings.
We apply Public Health foundations in the project development process to ensure these groups are safe, self-governing, and integrate in society.
We design spaces to walk, bike, work, and meet that are: (i) safe, (ii) close, (iii) comfortable and (iv) attractive for everyone regardless age, ability and condition.
3. Integrated project management
BHL health-centred urbanisms and building designs are geared to capture, move, store, and use energy in location. Each project aims a green life cycle, to engage in circular economies, and reach an excellent user quality experience.
To accomplish this ambition, our project management services fully integrate the most reliable green technologies available.
We provide client piece of mind through offering systematic supervision in every step and an integrated warranty at handover.
Green Integrations & Energy Optimization
BHL's project management integrates high-end technologies from our reliable partners whether its for a new building design or a retrofit.
Rainwater harvesting, conservation, and reuse

Air systems, that save energy

Lighting for health and wellbeing
• Systematic and practical
○ Population Health Assessments
○ Urban Environment Evaluations
○ Sick Building Syndrome Assessments
○ Transdisciplinary Workshops
○ Science Communication
○ Co-creation Processes
• Architecture / Engineering

○ Healthy Urban Planning
○ Salutogenic Building Design
○ Green integrations for Energy Optimization
○ Basic Studies Review
○ Planning & Design Quality Control
○ Strategic Procurement
○ Provider Warranty Integration
○ Project Closure