Providing evidence to build healthy cities

to restore Urban ecosystems and population health

UrbanCare, a three-phase methodology
for city makers to provide spaces for urban health.
It helps neighborhood communities, planners and developers deliver evidence-based designs that restore the urban ecosystem, the health of people, and speed return on investments.
BHL teams with specialists and local partners to apply the UrbanCare methodology. Together we evaluate urban sites and create proposals with Healthy Green Cities principles:
Eliminate hazardous urban heat spots through climate designs

Stop rainwater runoff and water pollution levels with water-sensitive planning.

Reduce hard sealed surfaces with a diverse and practical green

Transform sidewalks into pedestrian environments and public spaces designed for everyone, especially children, the elderly, and people with different types of disabilities.

Network priority locations for healthcare, physical activity, healthy diets, and positive social interactions.
Know more about urban health problems ...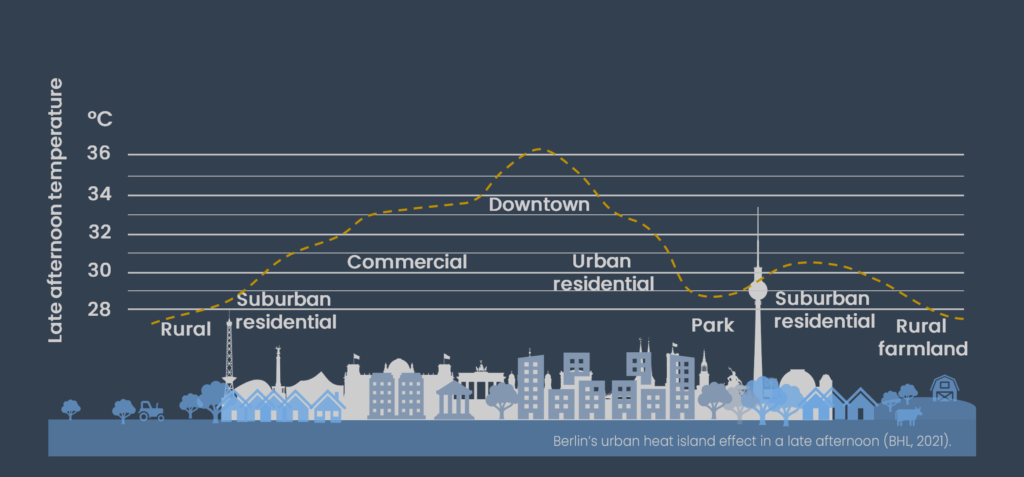 In Urban Health research, indicators gather valuable quantitative and qualitative data on health disparities and physical environmental inequities at the neighborhood scale. They are useful tools to collect data that produce evidence for decision-makers to confidently accelerate spatial planning and design. Compilations of health indicators and of environmental health indicators are critical to conducting research to inform policy and development projects aiming at urban climate and health outcomes.
S1_ Urban Health Indicators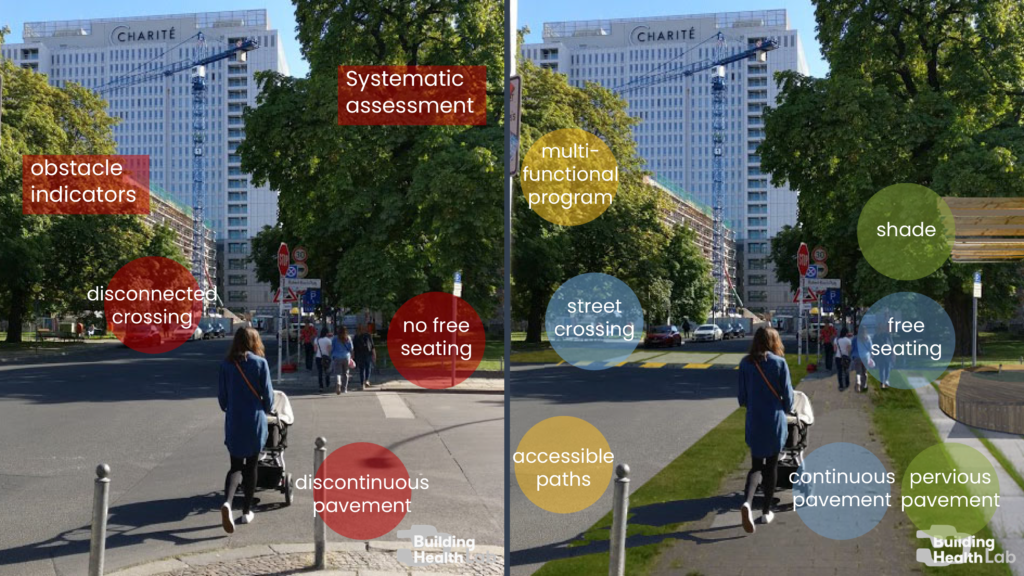 UrbanCare's research phase invests heavily in producing high-quality indicator tools to collect physical environmental and population data that describe the urban health situation of a site.
These composite indicators are practical to survey an urban site or evaluate spatial proposals at multiple scales and dimensions. Aware of the need for common sets of urban health indicators, UrbanCare has standard steps for research that allow fixing potential data differences and formats aiming at data transferability.
The quantitative research activities are systematic desk studies and observations of urban ecosystems (structures and dynamics) done with surveys and checklists created with the indicators (S1).
Desk research gathers information to develop user personas of context-specific vulnerable populations (such as children, the elderly, people with disabilities, patients, and the socially disadvantaged) and slow groups (such as tourists, street workers, or merchants).
The field observations at the street level assess the many physical environmental issues that affect pedestrian health and quality experiences such as heat or pathwidth while traveling 'pedestrian loops'. These are the possible walkways in an urban area to travel between priority destinations such as healthcare, educational, recreational, nutritional, and cultural services.
The qualitative research activities use the indicators to describe and evaluate outdoor space quality from a user's perception.
Focus group interviews with vulnerable and slow groups give first-hand insight into active mobility requirements and uncover issues initially not considered.
Semi-structured interviews and multidisciplinary dialogues with health and environment specialists illustrate technical challenges to traffic risks, heat exhaustion, air pollution, and various other environmental threats to urban ecosystems.
The high-speed pace of digital transformation allows not only to analyze data but to act on it. The right visualization of data highlights the most important aspects of a project, bringing new insights and communicating them more persuasively. As a result smarter actions and more accurate outcomes are possible to attain.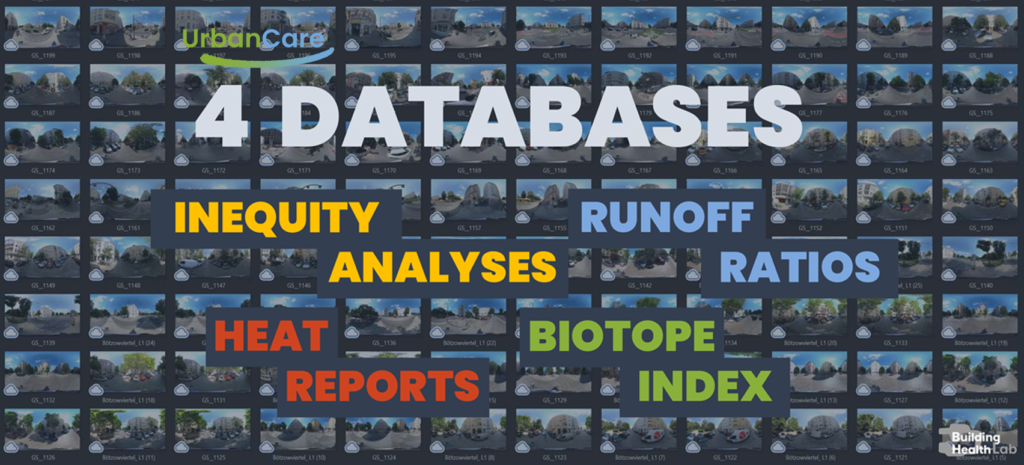 Consolidating local environmental and user persona data into local databases optimizes search times exponentially with focused and accurate results.
The data and databases produced can be considered an essential resource for municipal, regional, or even national projects aiming at economic growth, job creation, and societal progress in general. They will be open data sources for each site that can bring invaluable insight into various sub-fields of climate and health, such as food security, education, intelligent transport systems, and smart cities.

The UrbanCare Data Viewer is a web-based tool for citizens and other stakeholders to easily visualize and interpret data from all five databases (S4).
Research results are fed into databases and made visible through a 360° journey software that allows users to navigate the site and click to access data at different urban scenes.
The viewer permits users to easily navigate and zoom into multiple urban scenes. It allows users to comment on the urban scenes opening the opportunity to input ideas and introduce citizen-led innovations.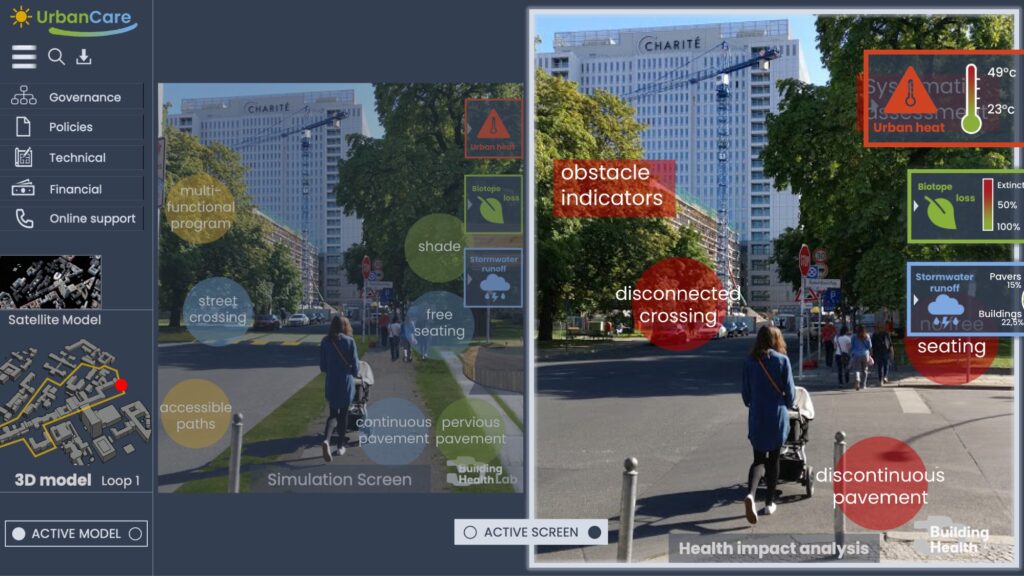 The Web Platform is a spatial planning environment that (i) allows and assembles information input from various sources, (ii) facilitates user interaction, and (iii) supports management, planning, and design decision-making.
The Platform comprehends urban 3D data such as topography, building volumes, street networks, and green/blue infrastructure. It builds on the Crowd Movement model developed within the Chalmers DTCC's framework allowing pedestrian and outdoor user movement simulations. The platform supports data and assessments from the UrbanCare Data Viewer (S5) and other sources using Urban Health Indicators (S1).
The whole range of inputs, allows an iterative process for researchers and designers to continuously adjust their spatial concepts to the context's environment and feedback from residents and users.
III. Decision-making
Workshops
The Decision-making Workshops are central to accomplishing a knowledge transfer. In four sessions, 8 to 12 participants rehearse the techniques to gather the evidence and review the evidence quality on ecosystem degradation, user needs, and urban health spatial requirements.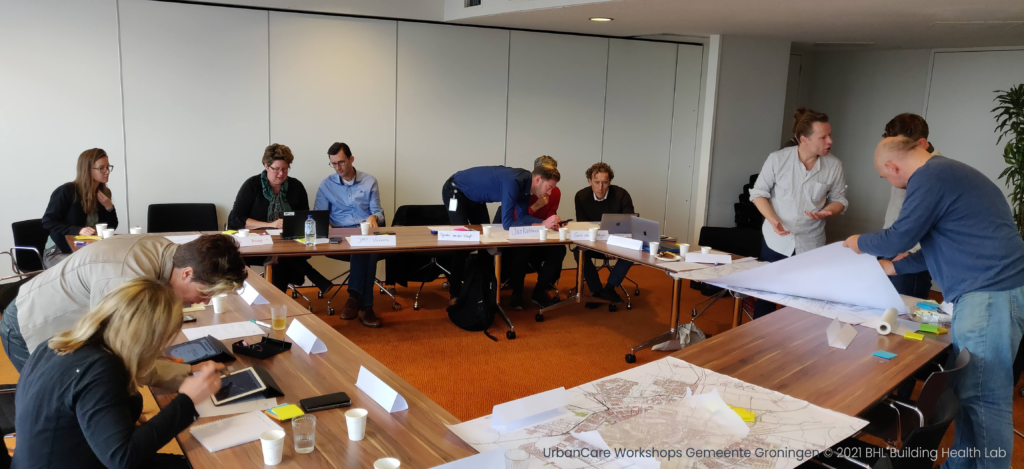 The first session uses the Data Viewer (S5) to start discussions on the case study within a diverse team of participants. The main objectives are to communicate the UrbanCare framework know-how and make available all the data managed on the case.
Through user personas, workshop participants take note of their pedestrian experience following pedestrian loops. These are the possible walkways for pedestrians to travel between priority destinations in the urban area, such as healthcare, educational, recreational, nutritional, and cultural services.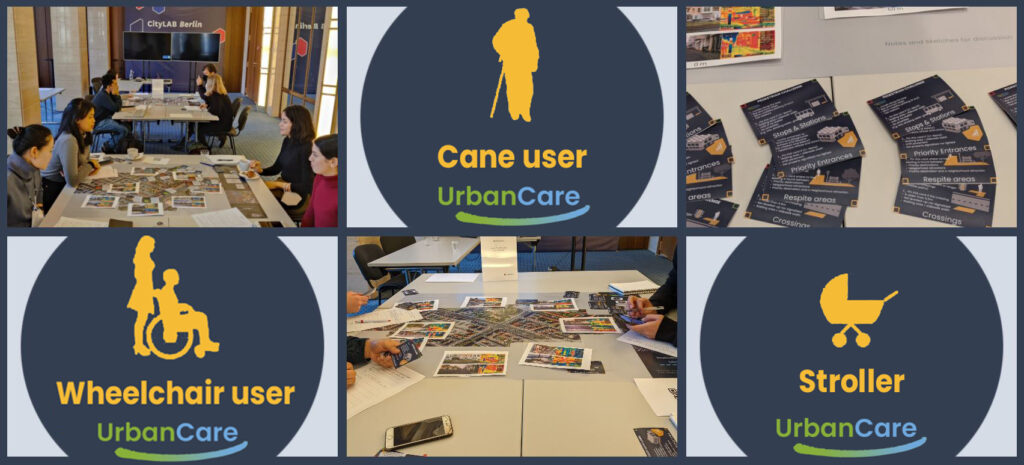 Diagnostics, engages participants in looking deeper into the environmental conditions of the pedestrian loops and the needs of outdoor users by visually navigating the five databases (S4). Through the Data Viewer or with the UrbanCare game board and cards, participants pin and describe environmental threats and obstacles at street connectors such as crossings, stops and stations, respite areas, and entrances to priority destinations (S7) from a User Persona perspective.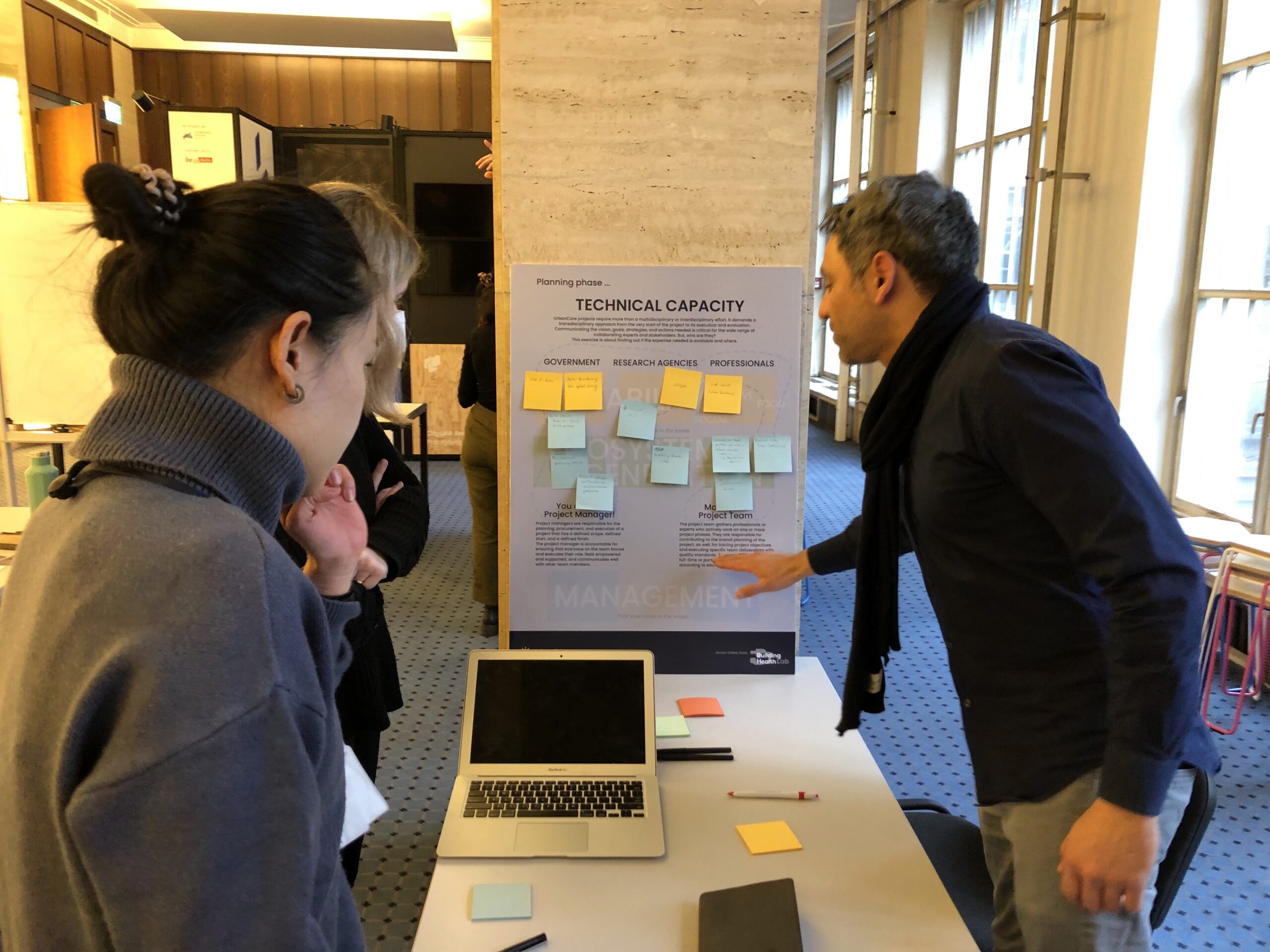 Planning is about understanding the decision-making processes in developing urban projects and using evidence to inform them. Participants use pin-up boards to recreate the planning process of the case's spatial solution from initiation to end, focusing on policy, technical capacity, and finances. During the session, the group defines the main actors and stakeholders of the project and appoints a project manager that recreates the transdisciplinary workflow.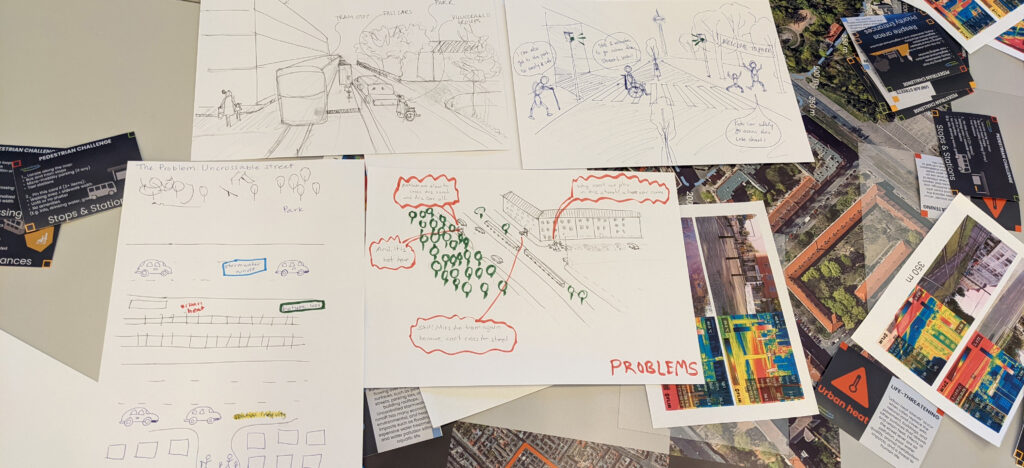 Design is the last session where participants create urban scene visuals for each loop that communicate the needs, problems, and spatial solutions that build pedestrian health and enhance the quality experience of vulnerable groups. The goal is to generate well-informed sketches that can convince decision-makers to act confident and fast.

Four cases are being structured at various neighborhood-scale locations in Europe:
Information and data on these cases are updated frequently …
UrbanCare,
a practical framework to regenerate urban ecosystems with evidence.
Alvaro Valera Sosa (2021), Update 03.04.2022
BHL Building Health Lab
Alvaro Valera Sosa: Conceptualization, Methodology, Investigation, Analyses
a.valera.sosa@buildinghealth.eu
BHL Building Health Lab
Alvaro Valera Sosa: Original draft, Writing-reviewing, Editing, Design, Administration.
Netra Naik: Assistance, Software, Data curation.
Gregorio Pezzoli: Software, Data curation.