Planning for Pedestrian Health!
Pedestrian environments expand public transportation usage(1), help regenerate and cool the natural environment, and protect the health of people of all ages and abilities.
Watch UrbanCare in three minutes.
At BHL, we defined Pedestrian Health as the outcome of a vital urban ecosystem at the street level, with replenished services and products such as clean air, water, and soil.
Globally, many cities want to move away from spending on sidewalks and start investing in climate-adaptive pedestrian environments. From active-mobility planning for daily trips to liveability planning for everyone. This shift in policies and actions requires planners to develop urban environments as ecosystems for sustainability.
UrbanCare is practical guidance for planners, managers, and designers to achieve pedestrian health with evidence-based designs.


Streets for Urban Health
in Four Steps
The workflow uses visual thinking techniques to communicate urban health research and the benefits from compelling green technologies for streets. 
Two steps define the needs of slower pedestrians and ecosystem problems found at the street level.
UrbanCare assists city makers compile information crucial to developing site-specific plans for pedestrian health. When the info is not available, BHL gathers it with field studies and surveys.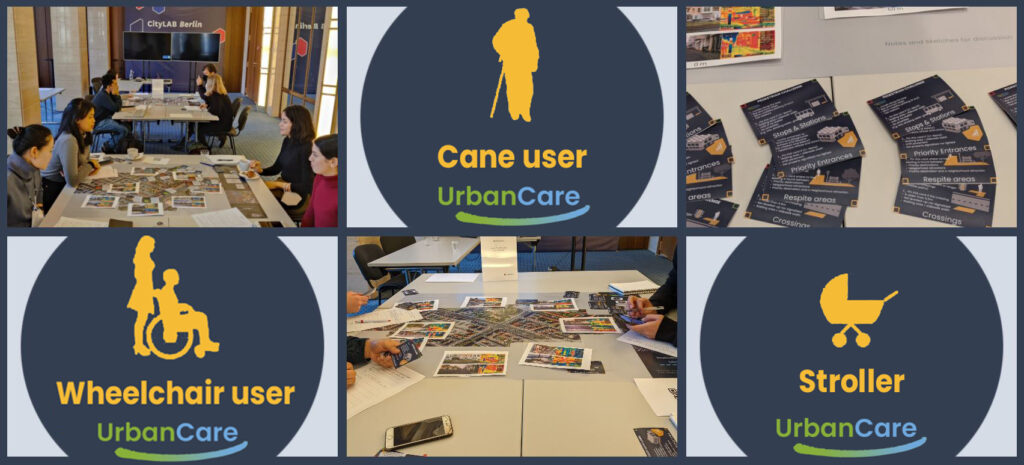 We first review the environmental and population health-related data available …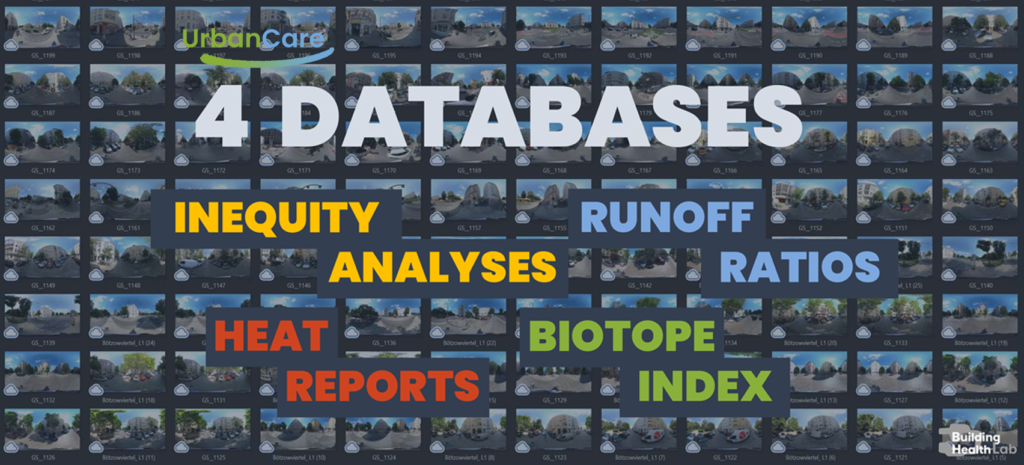 then survey for ecosystem factors at the street level to complete the evidence.
Two steps more assist stakeholder communication and transdisciplinary problem-solving.
UrbanCare helps planners and designers align goals for urban sustainability with those for urban health. Our commitment is to enrich projects with evidence and visual outputs that convince city decision-makers and urban developers to act.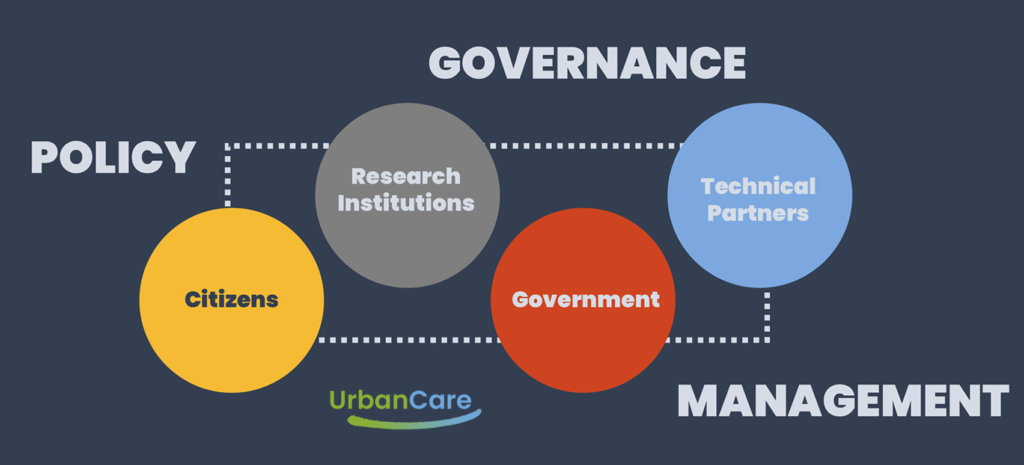 Mapping exercises help planners align city policies, goals, and resources for sustainability and health.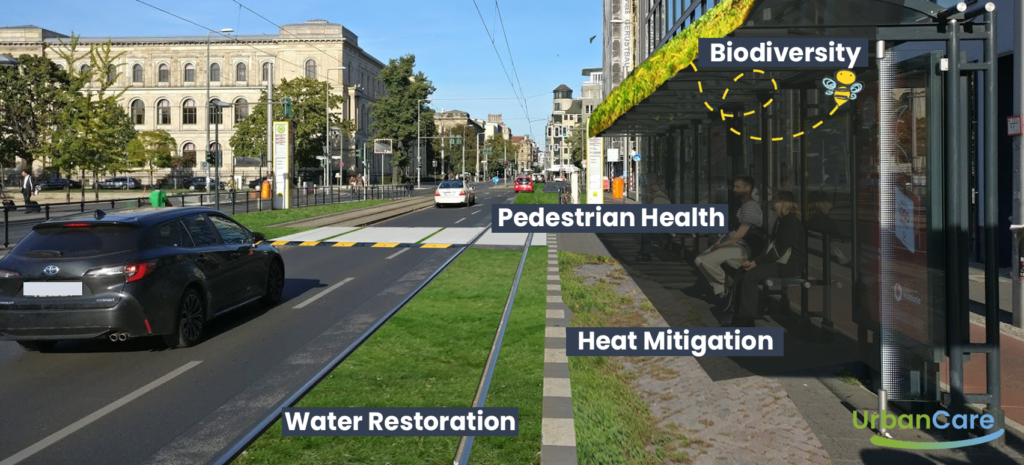 With the evidence, we assist designers to deliver visions of urban health to accelerate decision-making.
We teach UrbanCare
Assist local teams in applying it
Help manage projects from concept to creation.
UrbanCare cases under development across Europe
UrbanCare,
a practical framework to develop streetscapes for pedestrian health.
Alvaro Valera Sosa (2021)
BHL Building Health Lab
Alvaro Valera Sosa: Conceptualization, Methodology, Investigation, Analyses
a.valera.sosa@buildinghealth.eu
BHL Building Health Lab
Alvaro Valera Sosa: Original draft, Writing-reviewing, Editing, Design, Administration.
Netra Naik: Original draft contribution; Software, Data curation.
Julia Reißinger: Software, Data curation.
Links and sources of interest
1. https://www.completecommunitiesde.org/planning/complete-streets/walkable-communities
2. https://www.fuss-ev.de/planung-regeln-sicherheit
3. https://www.tagesspiegel.de/berlin/kiezbummel-in-berlin-prenzlauer-berg-das-boetzowviertel-hat-grund-zum-feiern/8700982.html
4. https://www.stadtentwicklung.berlin.de/nachhaltige-erneuerung/aktuelles/prenzlauer-berg/artikel/ausstellung-sanierungsgebiet-boetzowviertel-eroeffnet
5.https://fbinter.stadtberlin.de/fb/index.jsp?loginkey=zoomStart&mapId=k_vms_tempolimits_spatial@senstadt&bbox=385546,5818090,396644,5824313
6. https://www.morgenpost.de/bezirke/pankow/article232525871/Prenzlauer-Berg-Hufelandstrasse-wird-zur-Fahrradstrasse-Hufelandstrasse-wird-Fahrradstrasse.html
7. https://www.prokiez.de/
8. https://www.berlin.de/sen/uvk/en/traffic/transport-policy/berlin-mobility-act/
9. https://www.prokiez.de/mitmachen/
10. https://www.fuss-ev.de/
11. https://www.hrw.org/news/2021/07/01/germany-inaction-heat-plans-threatens-health
12. Li, X. L. (2019). Urban heat island impacts on building energy consumption: a review of approaches and findings. Elsevier, 1–43. https://www.sciencedirect.com/science/article/pii/S0360544219303895
13. https://www.bmu.de/en/topics/water-resources-waste/water-management/policy-goals-and-instruments/water-protection-policy-in-germany
14. https://www.hcu-hamburg.de/research/forschungsgruppen/reap/reap-projekte/bluegreenstreets/
15. Jekel and Sieker. (2010). Technical University of Berlin Dept. of Water Quality Control, Rainwater management for urban drainage, groundwater recharge and storage. https://www.hmw.tu-berlin.de/fileadmin/i41_hmw/12_DAAD_Rainwater-Jekel-Chile2010.pdf
16. Senate Department for Urban Development and the Environment and Chamber of Commerce and Industry of Berlin. (2014). Business in Berlin Supports Biodiversity Recommendations for Action – A Guide. https://www.berlin.de/sen/uvk/_assets/natur-gruen/biologische-vielfalt/publikationen/leitfaden_biologischevielfalt_englisch.pdf
17. https://www.museumfuernaturkunde.berlin/en/science/research/society-and-nature/biodiversity-policy-lab
18. Parris. (2018). The seven lamps of planning for biodiversity in the city. Cities. Published. https://doi.org/10.1016/j.cities.2018.06.007