building a green healthy neighborhood …
Applying UrbanCare in Berlin
Pedestrian environments expand public transportation usage(1), help regenerate and cool the natural environment, and protect the health of people of all ages and abilities.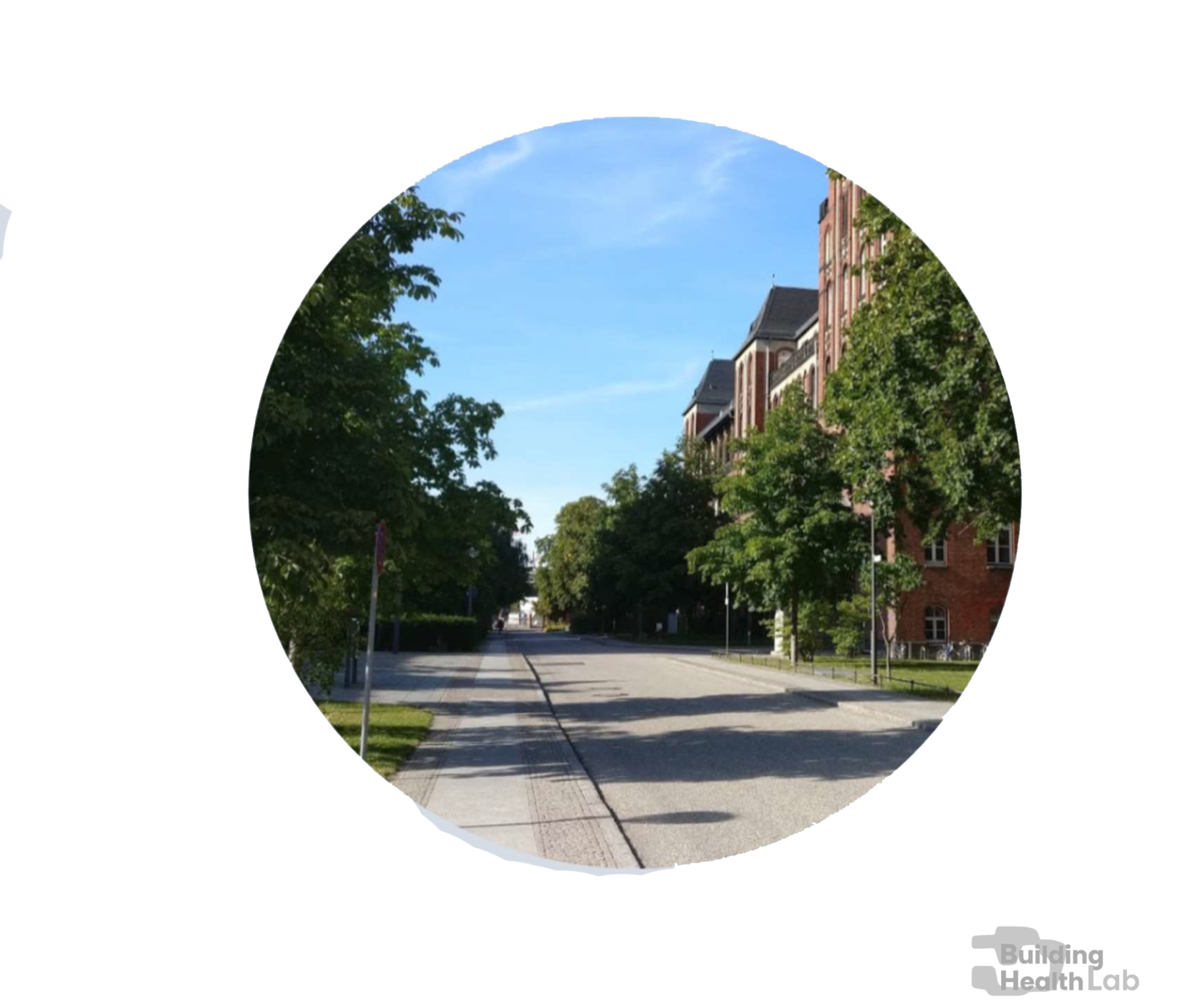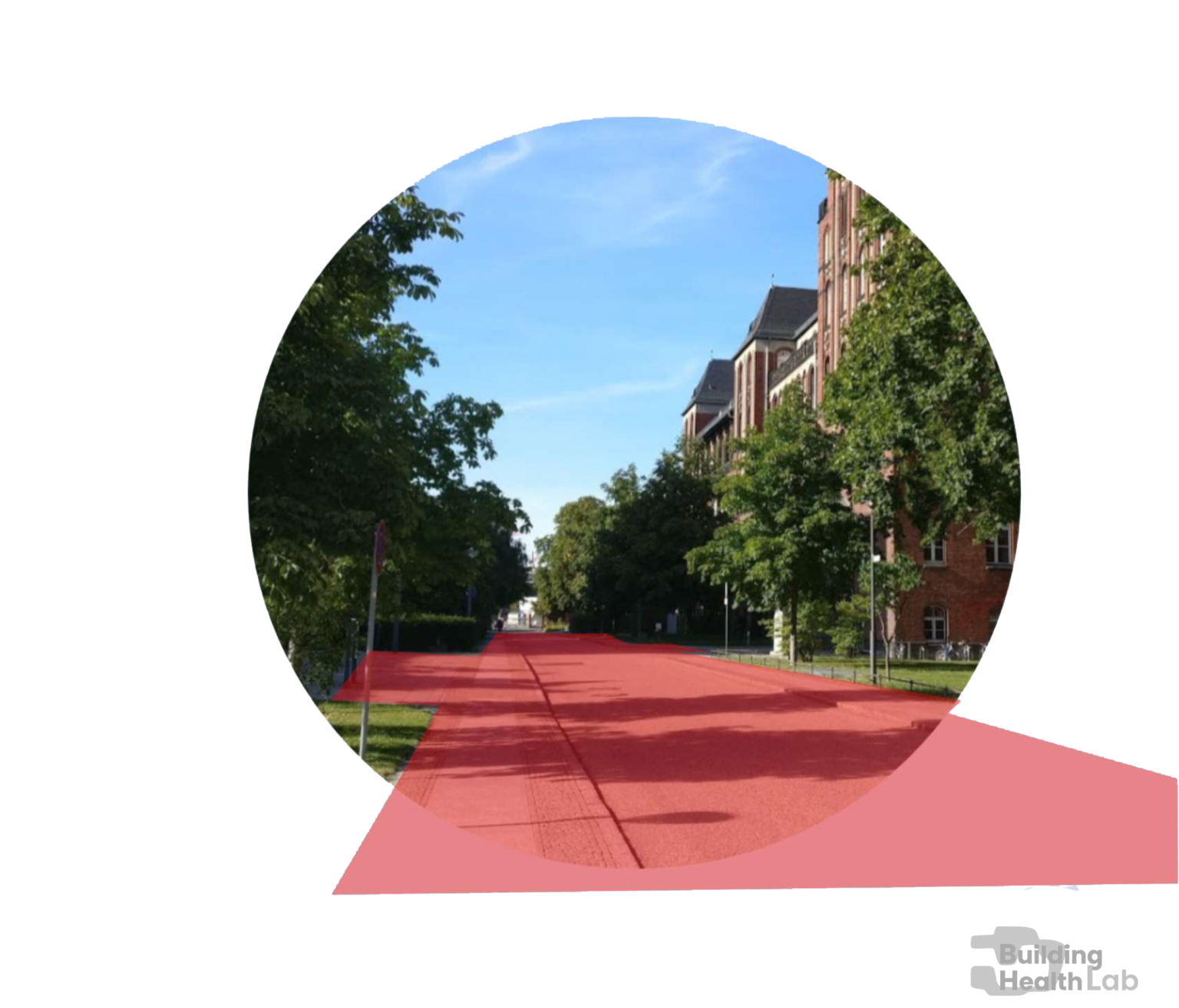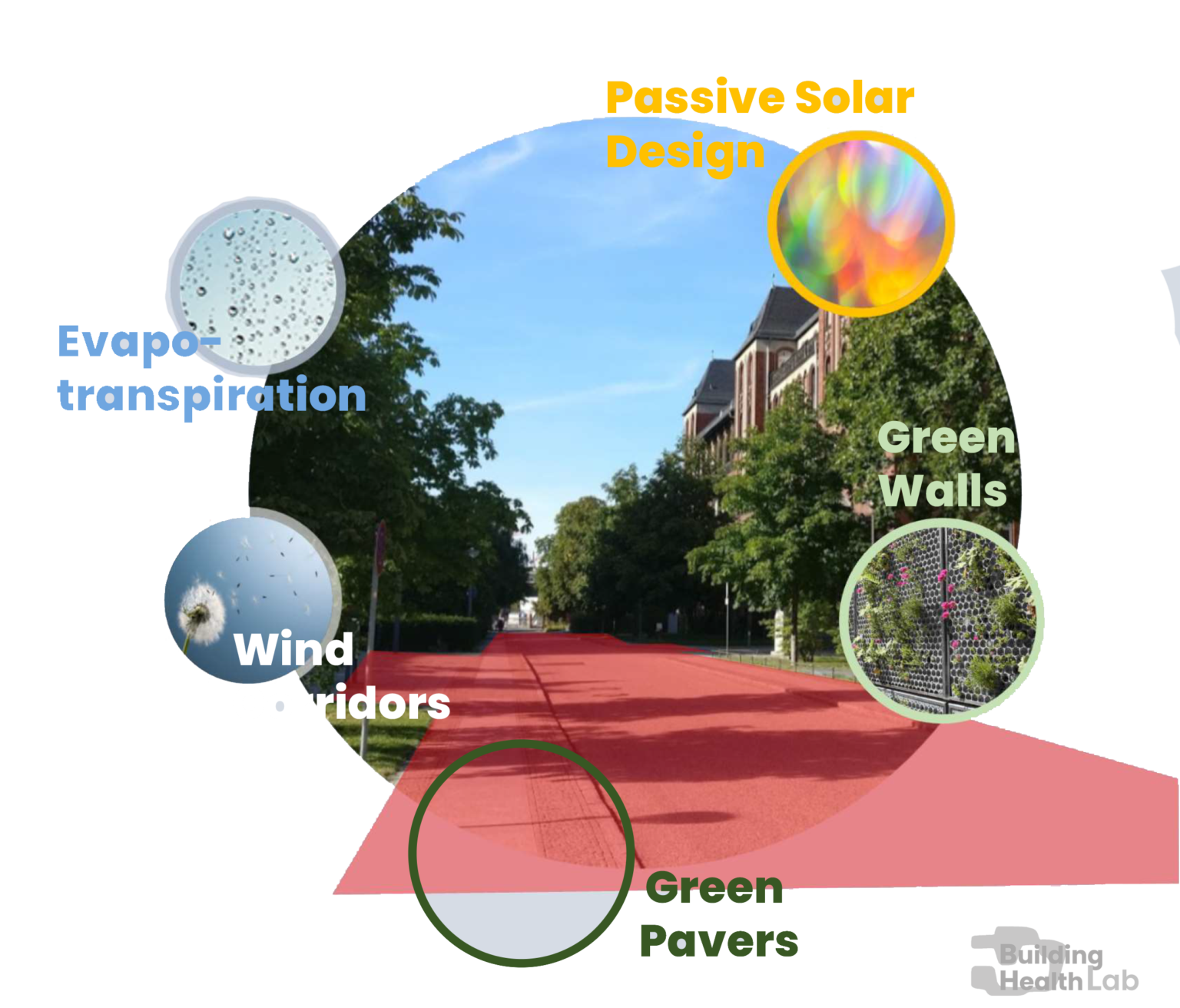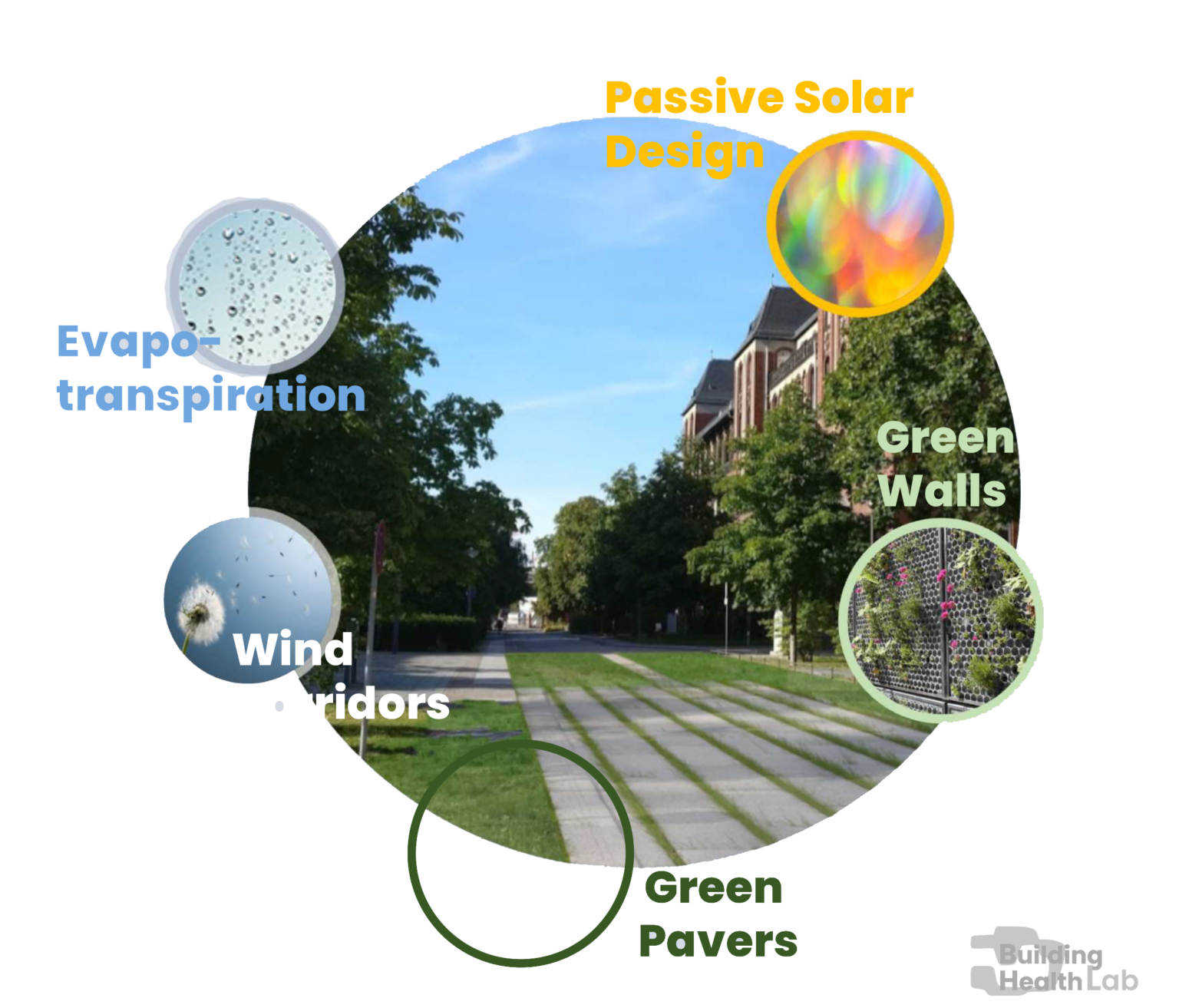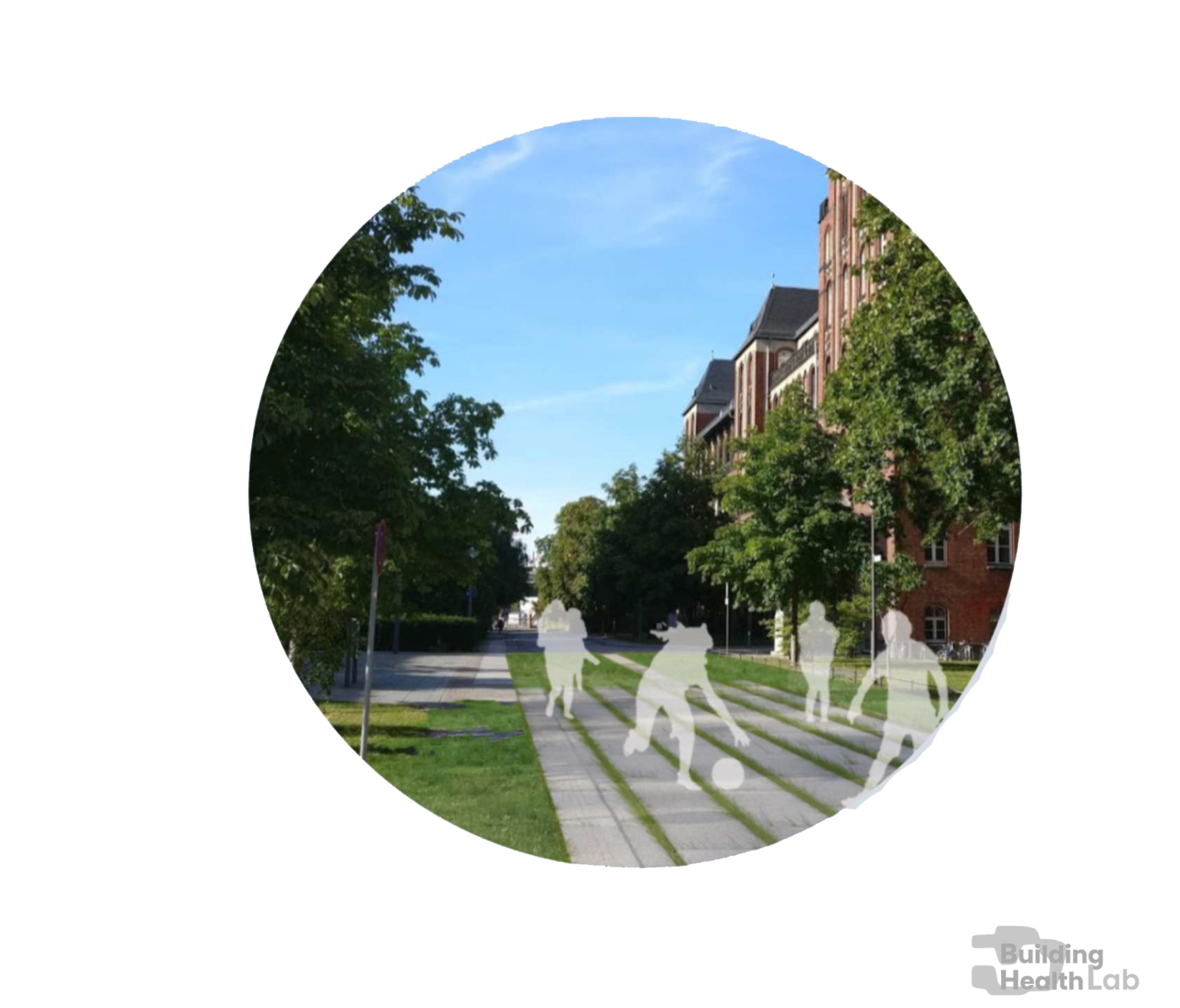 UrbanCare is a 4-step practical framework for city makers to develop pedestrian plans for liveability.
Its intuitive guidance along the process assists planners to think visually about applying valid scientific research and integrating compelling green technologies to specific sites.
Gap finder | Targets obstacles for liveability and shows where pedestrian environments are needed,
Diagnostics | Reports priority environmental issues affecting nature and human health,
Planner | Devises strategies that align sustainable urban planning efforts with urban health goals,
Designer | Accelerates actions and decision-making through evidence and stakeholder participation.
UrbanCare goals for Bötzowviertel
Case example 'UrbanCare Bötzowviertel'
However, pedestrian environments are often neglected to narrow grey sidewalks for mobility, paved with heat-trapping asphalts and sealed surfaces. When wide enough, they are nibbled on by parking lots and bike lanes, bus stops, all kinds of street furniture, light poles, and garbage bins(1).
Berlin (like many cities globally) wants to move away from spending on sidewalks and start investing in climate-adaptive pedestrian environments. For this purpose, the city counts with the expertise required and research as seen in the 2020 Berlin Pankow Mobility Report elaborated by the Department of Integrated Transport Planning at TU-Belin. However, there is a shortfall of practical guidance to channel broad participation, install transdisciplinary dialogue towards liveability, and manage such a project with timely decision making.
UrbanCare ensures a smooth flow of knowledge through its methodology and intuitive tools easy-to-use by all stakeholders especially, local residents. Its neighborhood focus and scale are practical for people to confidently identify challenges to their daily errands and life outdoors and contribute to possible solutions.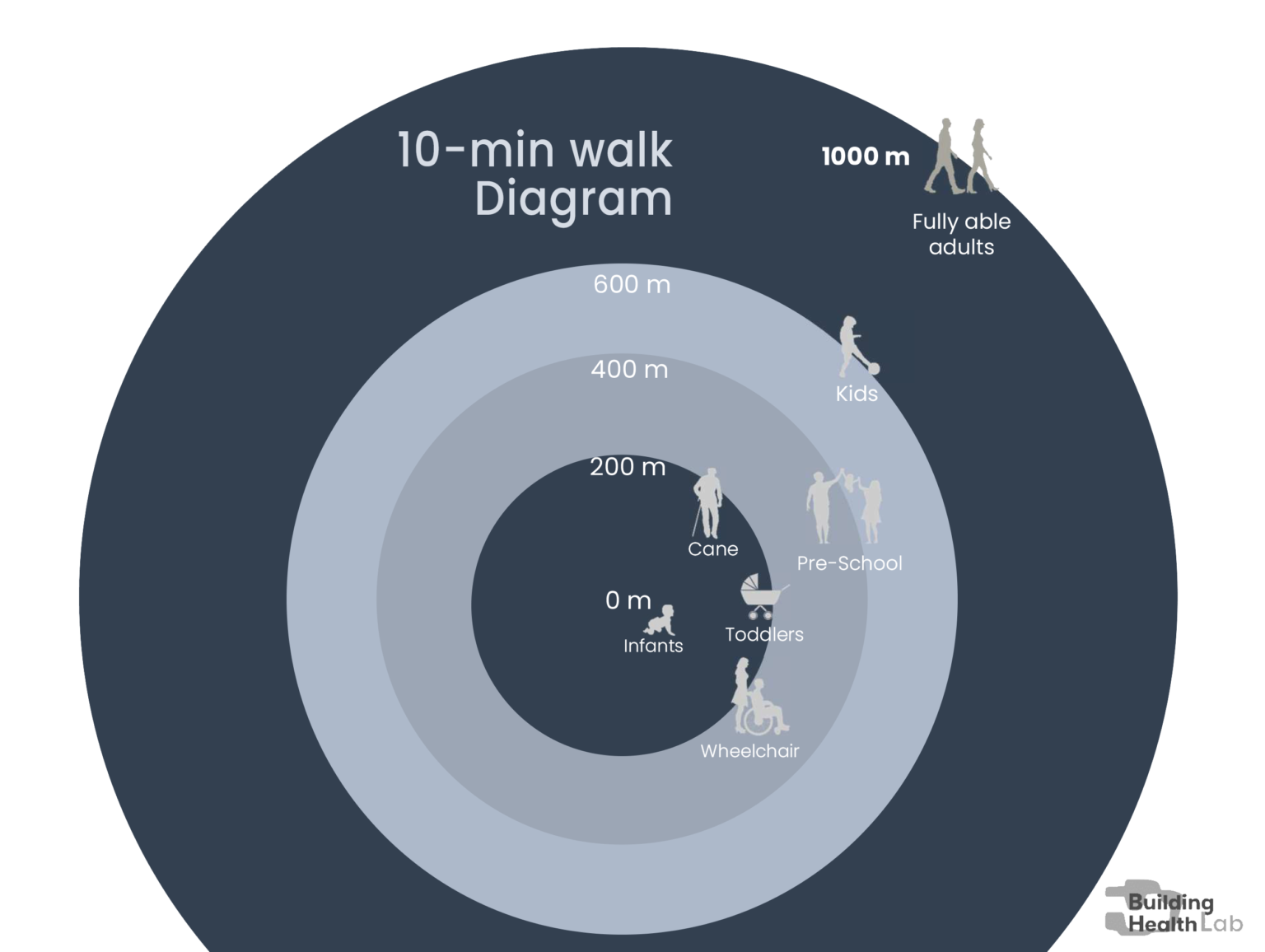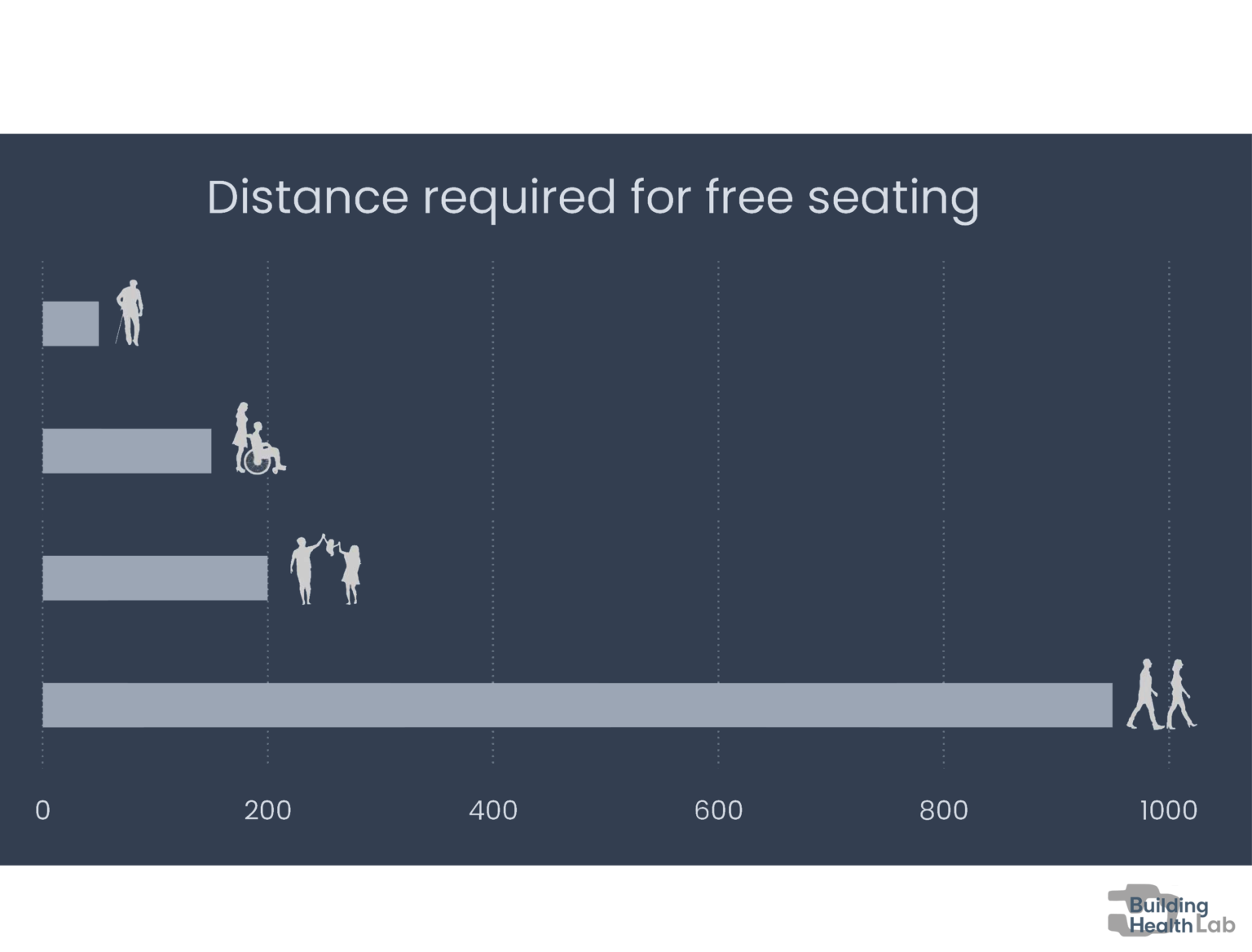 Liveability gears the pedestrian-environment planning process!
It means aligning goals to reach the transformative benefits from climate adaptation, urban health, and economic efficiency.


The following case example presents how practical assistance is offered to develop a climate adaptive pedestrian plan for Bötzowviertel. A neighborhood northeast Berlin that was selected after an online community meeting celebrated in August 2021, organized by Pro Kiez Bötzowviertel e.V. 
Bötzowviertel is a lively residential neighborhood located in Prenzlauerberg nearby Alexanderplatz. The Kiez was re-developed from 1994 to 2011 into a modern, family-friendly, and popular zone for visitors (3, 4). Its streets are lively with generous sidewalks with various pavers (other than asphalt) and many 30 km/h car lanes with traffic calming features (5). However, surrounded by three large avenues – Greifswalder Straße, Danziger Straße, and Am Friedrichshain – the Kiez disconnects from nearby neighborhoods, functions, and services.
The main goal of 'UrbanCare Bötzowviertel' is to develop guidelines for future district pedestrian planners to ensure the development of a high-quality pedestrian environment, especially across transit avenues. Some challenges are:
• Enhance crossings at street intersections with intuitive pedestrian-centered designs;
• create new fully pedestrianized crossings at mid-blocks;
• retrofit underused sealed pavements and surfaces along streets, sidewalks, and middle islands;
• integrate biking projects – such as the 'Hufelandstraße Bike Street project'(6) – to the pedestrian plan;
• provide sheltered free-seating where strategically needed by vulnerable groups,
• condition stops for buses and trams with climate-friendly solutions.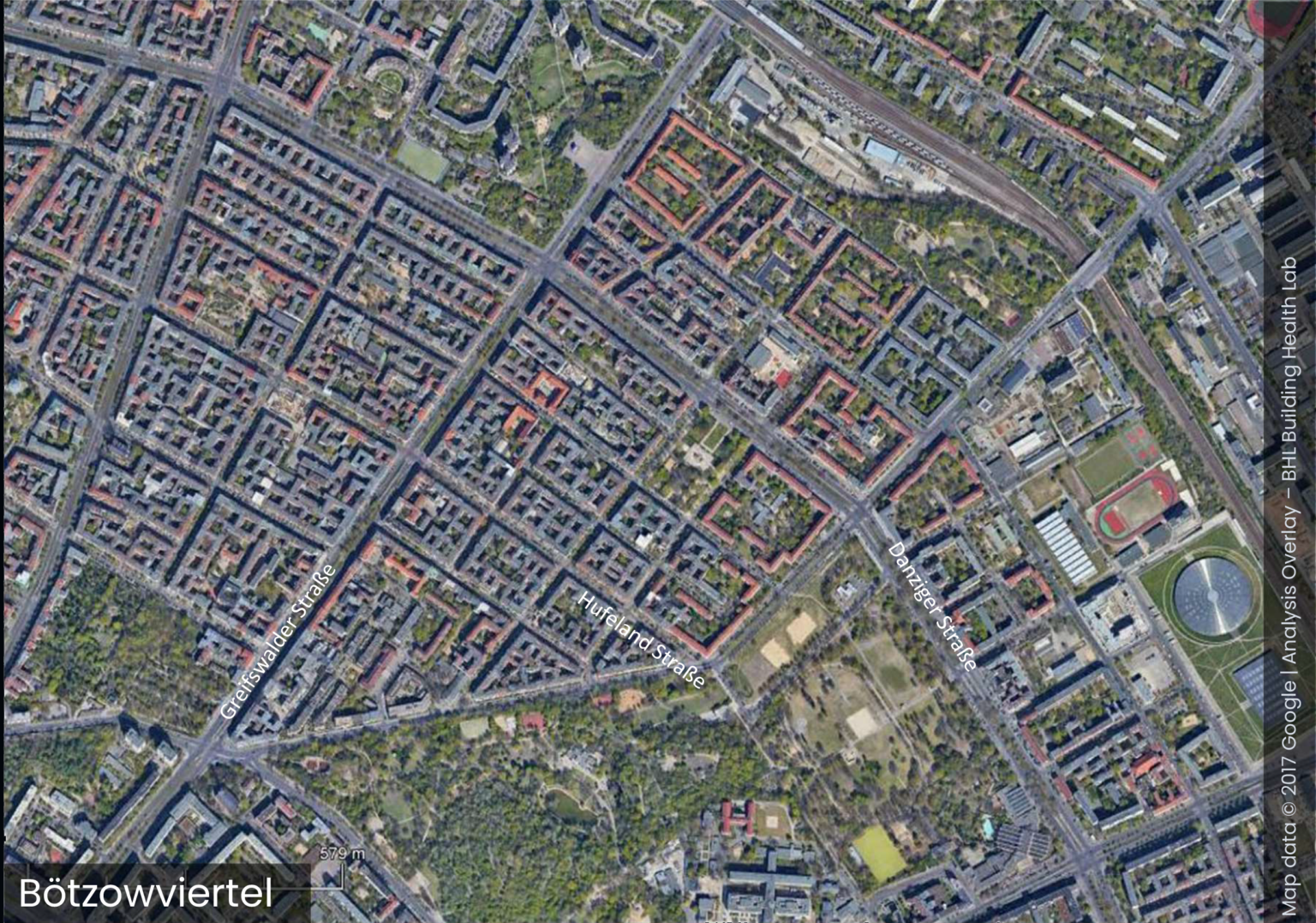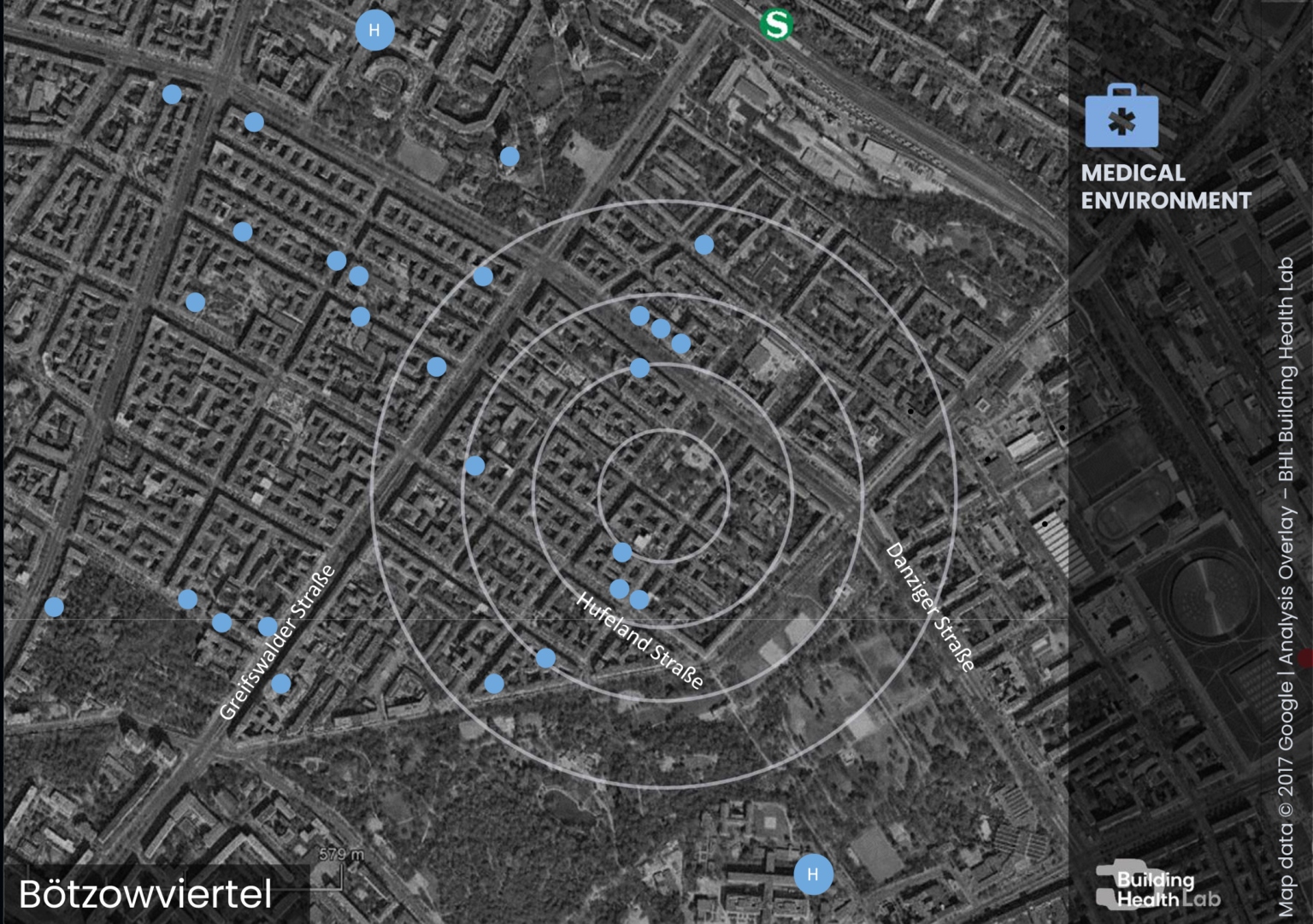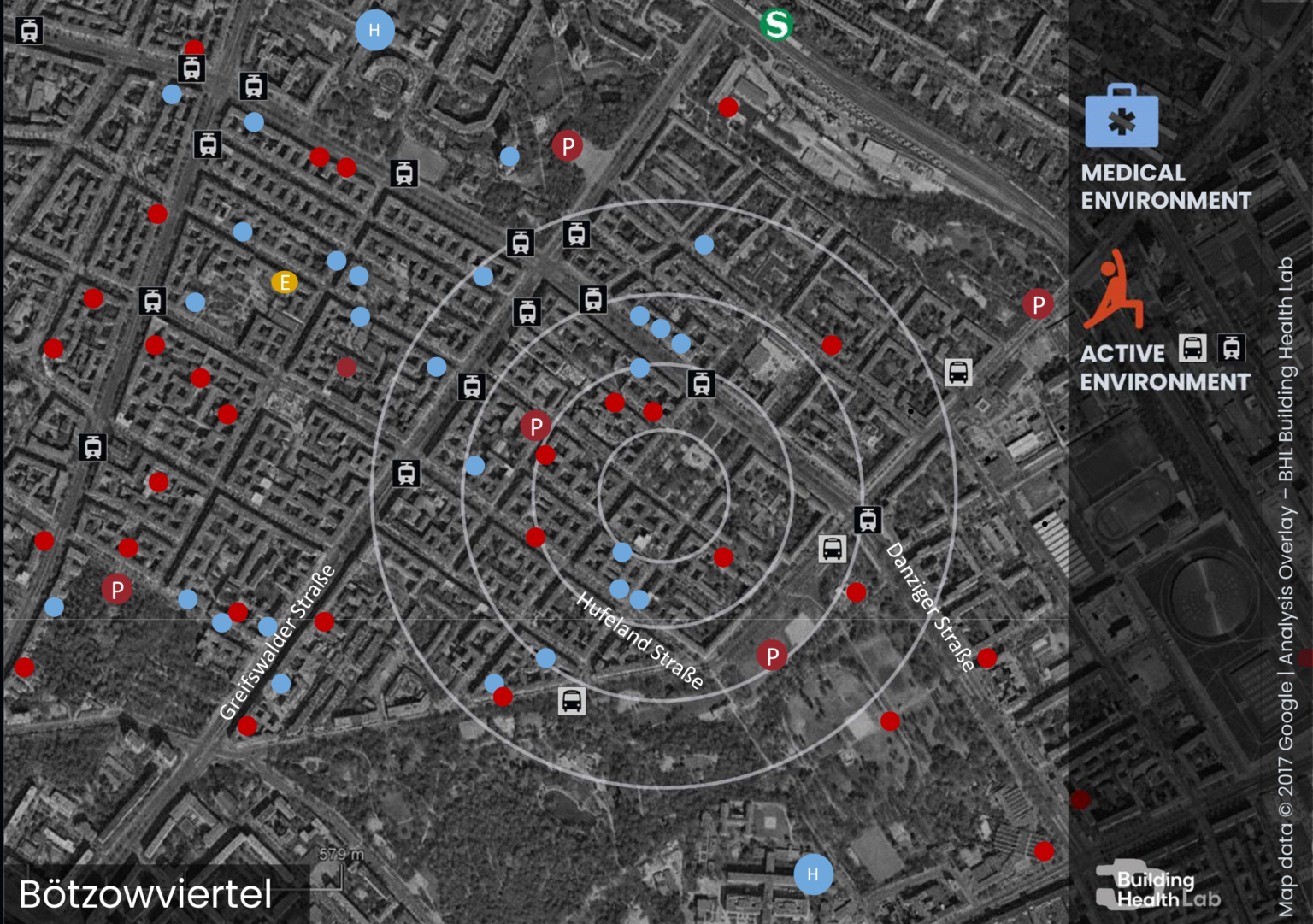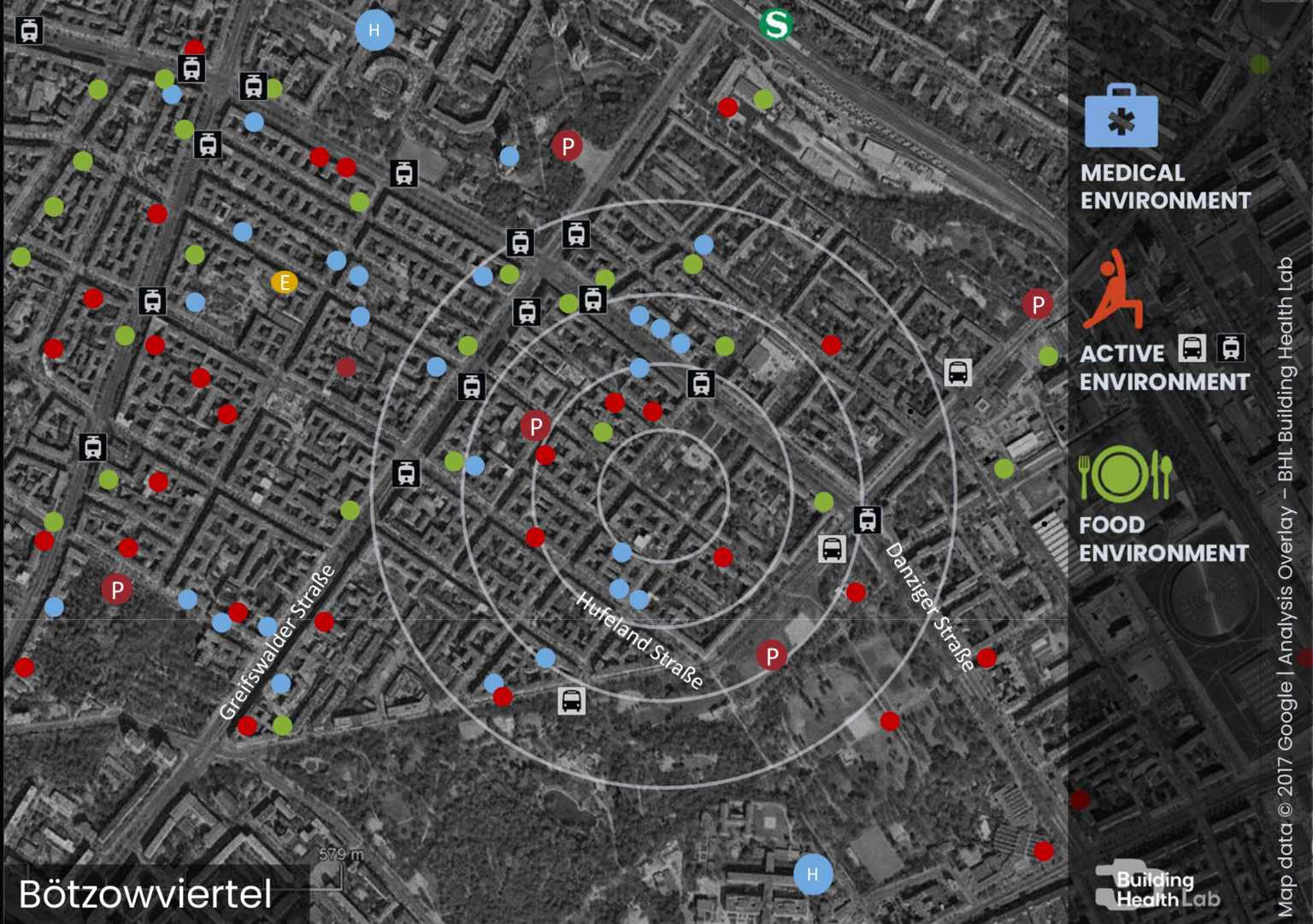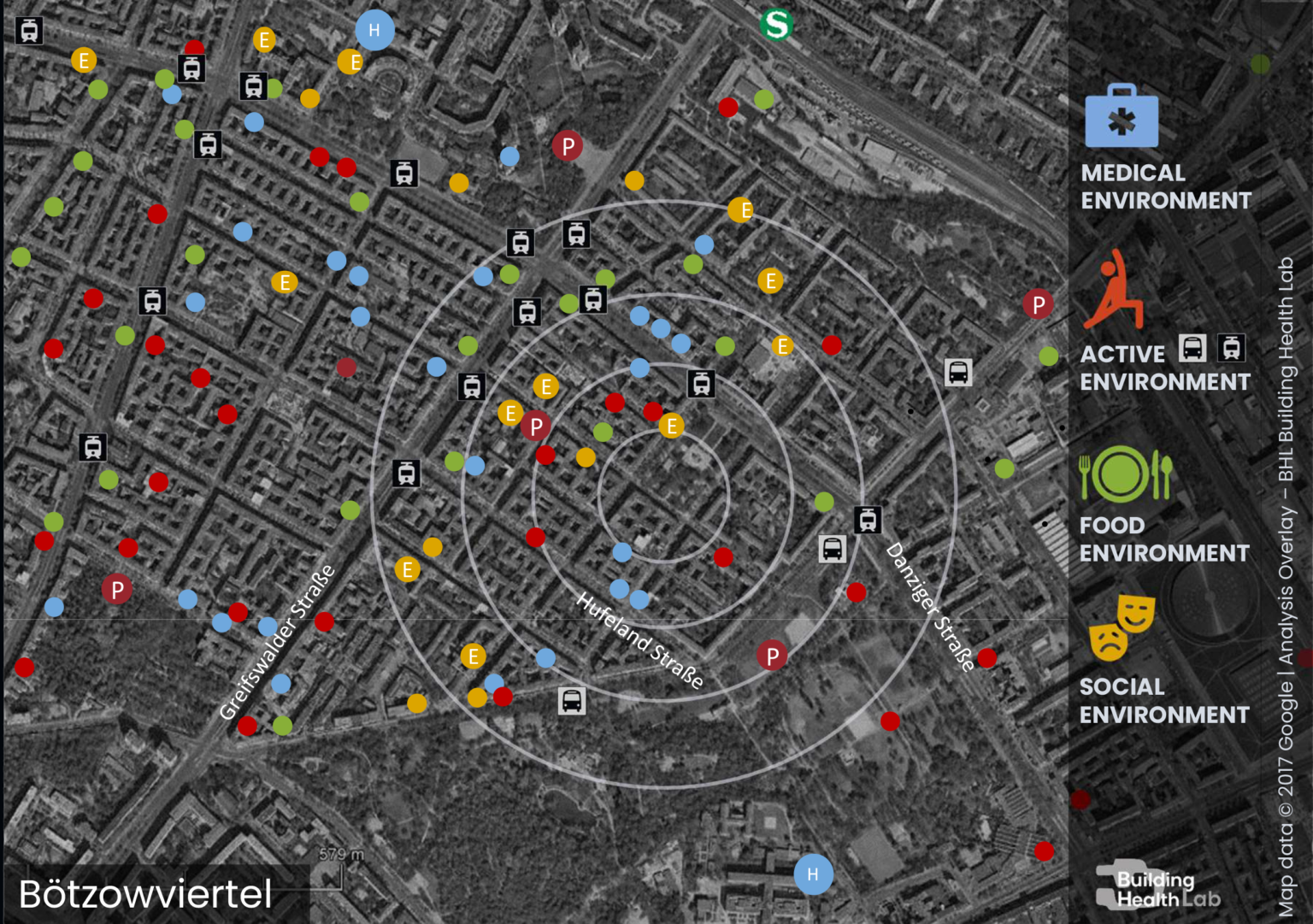 Pedestrian environment characterization
Priority destinations located 1 km away from tram stops and the Greifswalder Str. S-Bahn were mapped. A mix of commercial and cultural attractions were found such as the Kurt-Tucholsky Library, Filmtheater am Friedrichshain, Arnswalderplatz square, the emblematic park Volkspark Friedrichshain(7), as well, numerous, elderly homes, medical offices, schools, and playgrounds.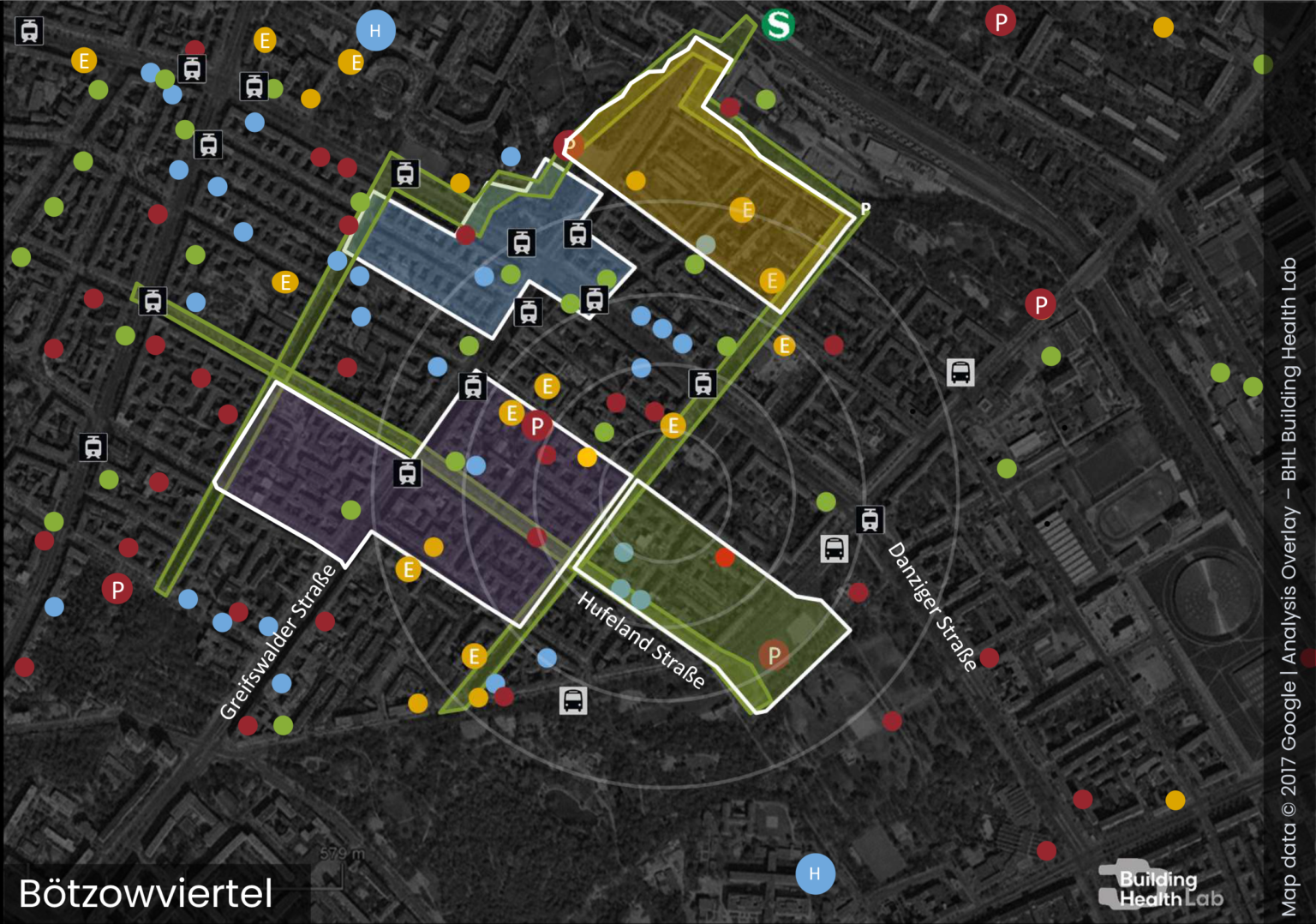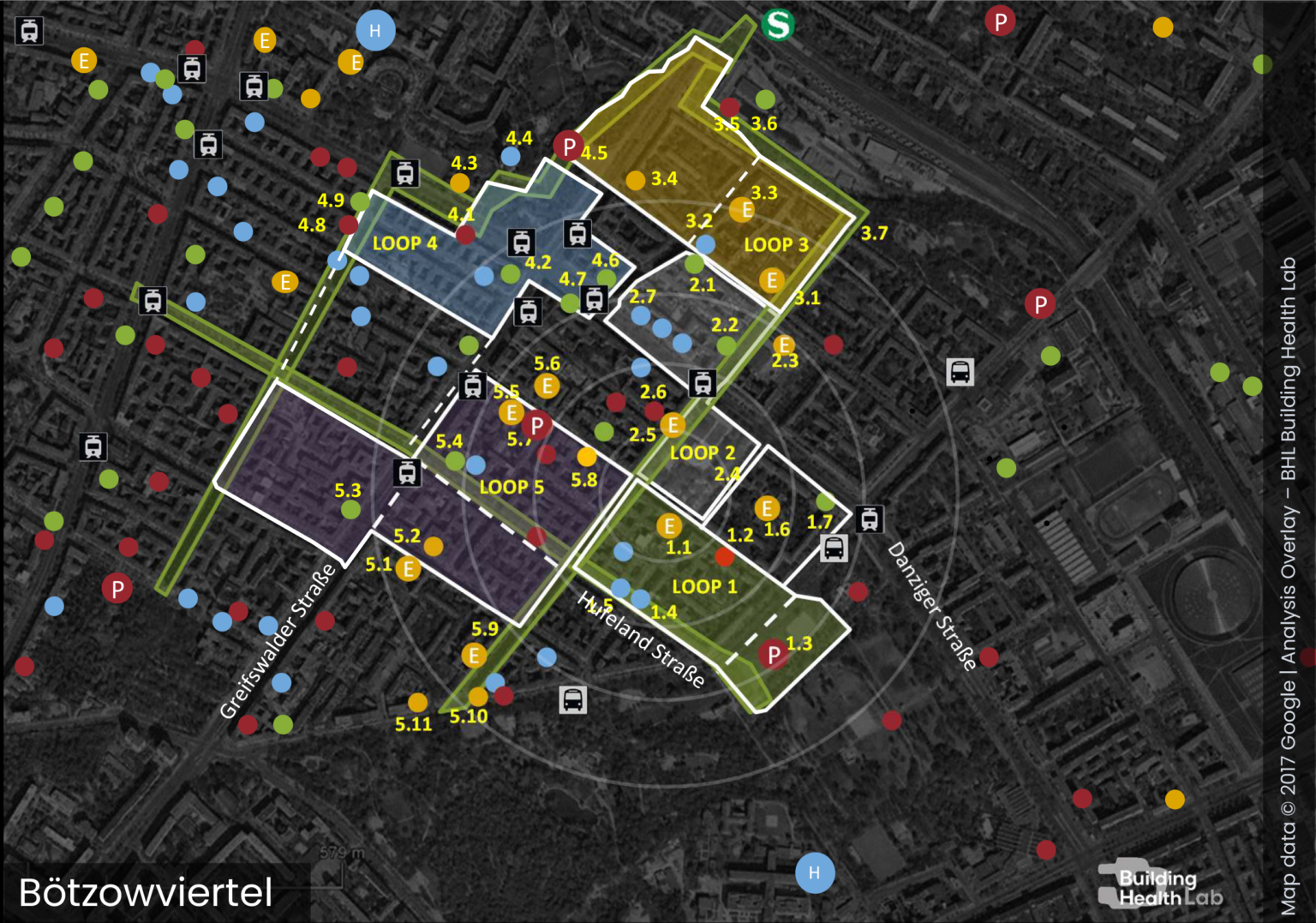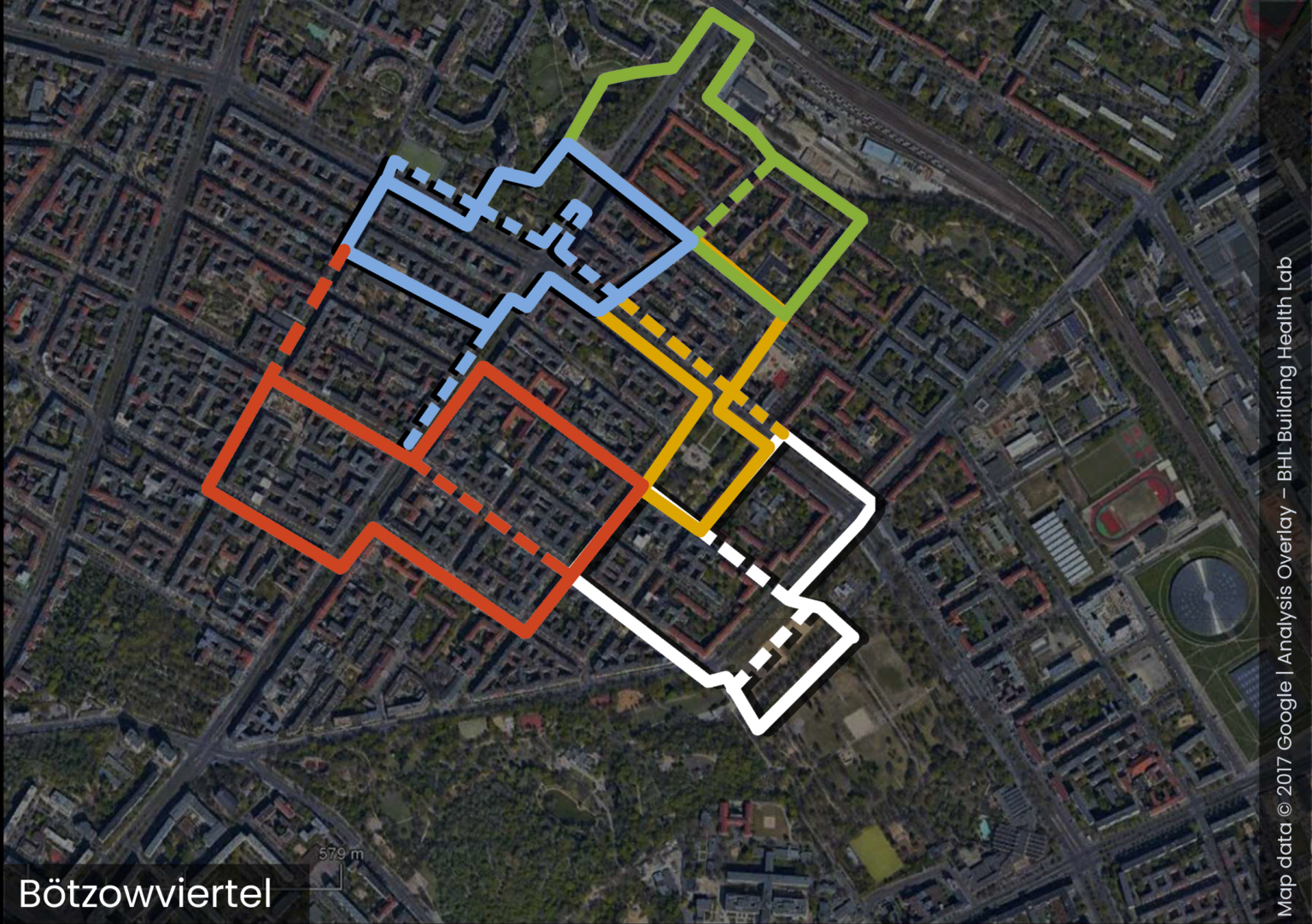 The street layout and wide crosswalks makes it difficult for the slower groups including children, the elderly, and people with disabilities, to reach priority destinations out of the Kiez including public transportation stops. 
'Pedestrian loops' connecting priority destinations within and out the Kiez were proposed for further environmental evaluations (step 2 Diagnostics).
Spatial Inequity Diagnostics
Spatial inequities affecting the most vulnerable
Click play to watch challenges for pedestrian planning
Evaluations are performed to assess street level needs and requirements of children, the elderly, and people with different kinds of physical and/or cognitive impairments or disabilities.
is a new amendment to the city's mobility law that came into force on February 24, 2021. It gives greater rights and protections to pedestrians – people on foot, in wheelchairs or otherwise – in the German capital.
Measures outlined in the law include aids to crossing streets, such as longer green crossing times and more direct routes, traffic calming measures, better lighting, and more sitting space and 'play streets'.
The original Mobility Act, ratified in 2018, was the first in Germany to give priority to public transport and bicycle traffic over private cars.
This new amendment is the continuation of the city's work to shift the focus on Berlin's roads away from private car traffic (8).
Prokiez Bötzowviertel (owners)
Through this association,  Kiez residents (and friends) are invited to participate in events and find out interesting things about the neighborhood, change or preserve something.
Kiez & Kurt is the neighborhood's meeting center "launched" in 2018 with the aim of making the neighborhood more colorful and lively! (9)
Fuß e.V. (advocates)
Since 1985 FUSS e.V. has been representing the interests of pedestrians in Germany. We are a contact partner for administration, politics and the general public regarding all questions about walking. We issue statements and propose amendments to laws and directives.
With our expertise and experience, we advise citizens, administrations and politicians and support local and regional initiatives with regard to specific traffic problems. We carry out pilot projects for pedestrian-friendly traffic solutions together with other organizations and administration departments (10).
• Health costs are reduced by introducing a more active lifestyle.
• Transportation costs drop due to less fuel consumption and infrastructure (development and maintenance) of other travel modes.
• Walking tourism promotes and preserves heritage from erosion and pollutants.
• Local business activity and employment increases substantially; pedestrians have 40% more time at shop windows.
• A 10 point increase in walkability levels (not walking rates), may increase property values by 5 to 8 percent.
A threat to people and energy management
"Germany acknowledges that increasing heat is an emerging health hazard and some states have taken good first steps to help at-risk populations adapt," said Katharina Rall, senior environment researcher at Human Rights Watch. "But given the urgency of both reducing emissions and addressing the effect of the climate crisis, German authorities need to step up their game." 
There is limited data on heat-related mortality in Germany. But during each of the previous heat waves – in 2003, 2006, and 2015 – more than 6,000 deaths were attributed to heat. Limited data from 2018 shows that almost 500 people died of heat-related causes in Berlin alone (11).
Measure heat spots hence intensity varies considerably. Mapping heat spots helps prioritize locations for intervention.
Synergize streetscape planning with urban functions and services seeking suitable natural ventilation or mitigation via building design and materials.
Design and apply materials for heat loss and thermal comfort, especially at pedestrian loops.
can save cooling energy costs up to 19% with heat mitigating solutions; and up to 20% in heating costs with wind breaking vegetation (Li et. al., 2019) (12).
Stormwater Runoff Diagnostics
A public health problem with high water treatment costs
Surface analyses determine the porosity and heat retention capacity of various hardscape materials at the site.
Stormwater Management Planner
The BlueGreenStreets research project investigates and evaluates the effectiveness of existing planning instruments and regulations on
green urban infrastructures,
urban water management,
the rehabilitation management of roads and sewers,
traffic and open space planning
The aim of the project is to further develop these instruments with a focus on the sustainable and resource-efficient design of urban neighborhoods (14).
• Typical fee (Berlin): ~2 €/m²/year
• Examples for fees
a) Private house (150 m² connected) 300 €/year
b) Supermarket (10.000 ² connected) 20.000 €/year
c) Supermarket (disconnected, infiltration) 0 €/year (15).
Biodiversity Loss Diagnostics
Our own survival at stake
The amount of hard surface in comparison to green ones are measured and the 'Biotope Ratio' is estimated.
The Berlin Strategy for Biodiversity Preservation was created in March 2012 by the Berlin Senate. This strategy provides the foundations for fulfilling Berlin's part in the global responsibility to preserving biodiversity (16).
Biodiversity Policy Lab
The Biodiversity Policy Lab (BPL) is a research unit of the Museum für Naturkunde Berlin that analyses biodiversity policy, advises on biodiversity policy and accompanies or even actively initiates public debates on biodiversity policy. The aim of the BPL is to make the diversity of species, genes and ecosystems a public matter – a matter that societies must take care to preserve and use according to sustainability criteria (17).
Identify remaining ecological assets and habitats, and protect both current and potential areas
Connect biological populations and habitats
Construct diverse and complex habitats to attract or retain biodiversity
Create ecosystem cycles. Move towards decentralized, integrated management of waste, water and energy, from a linear to a circular urban metabolism.
Trigger interactions within and between ecosystem elements
Propose urban infrastructure that reduces negative impacts on biodiversity
Promote novel urban ecosystems and ecological communities (18).
A biodiverse field installation costs the same as lawn: around 8 € /m2.  Considering the maintenance costs of cutting a lawn 10 times a year at 2.50 € /m2 to that of a field needing cutting only twice a year at 0.60 € /m2, the installation costs of a field of native flowers will have paid for itself in around four years while saving the company a annual of 1.90 € /m2 (figures obtained from landscaping firms).
For butterflies, bees, and bumblebees, the investment reaps benefits in the first year. 


UrbanCare Step 4_ The immersive Data Model for Bötzowviertel is still under development … here visit our model for Florence, Italy.
Bötzowviertel Field research in Kms
Pedestrian loops: 8 km
Street grid: 14 km
Bötzowviertel Data Analysis Reports
Collaborating partners in Berlin
Other UrbanCare cases developing across Europe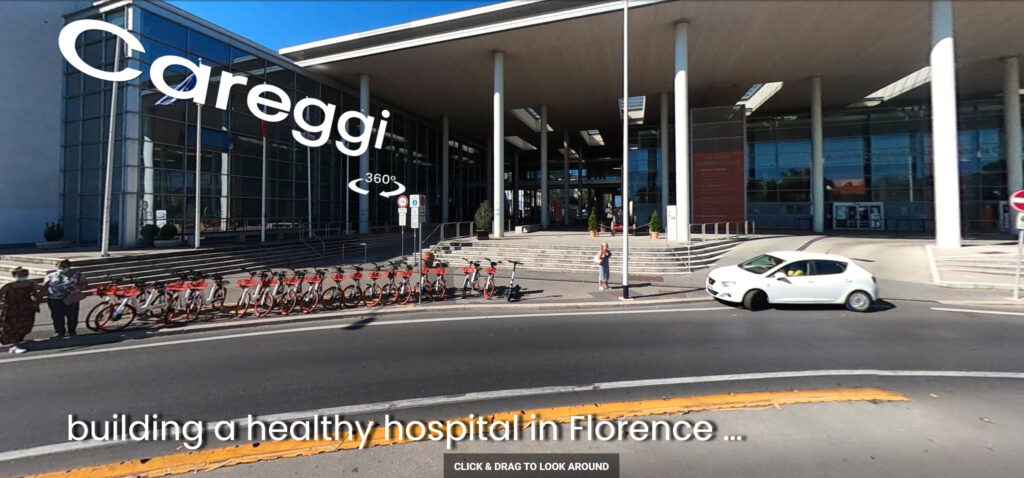 A climate-friendly medical campus in Florence, Italy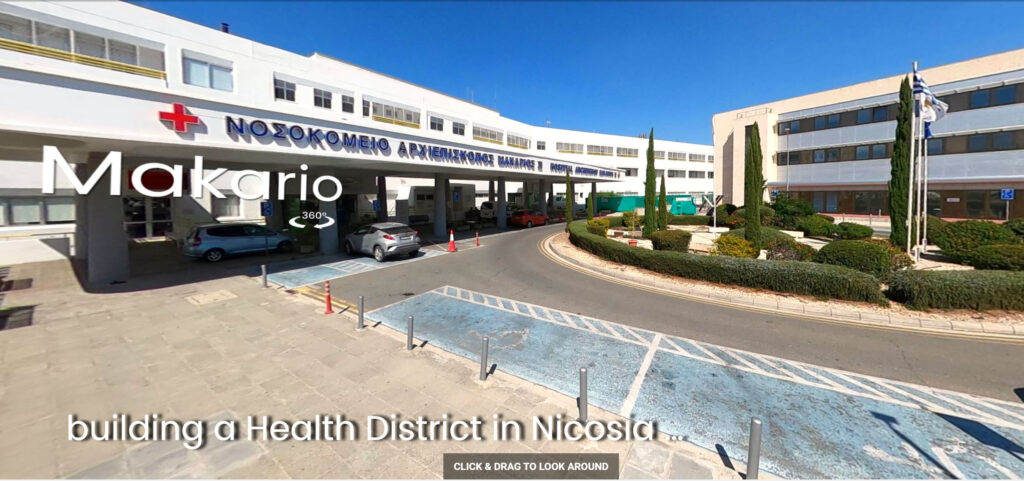 A medical neighborhood in Nicosia, Cyprus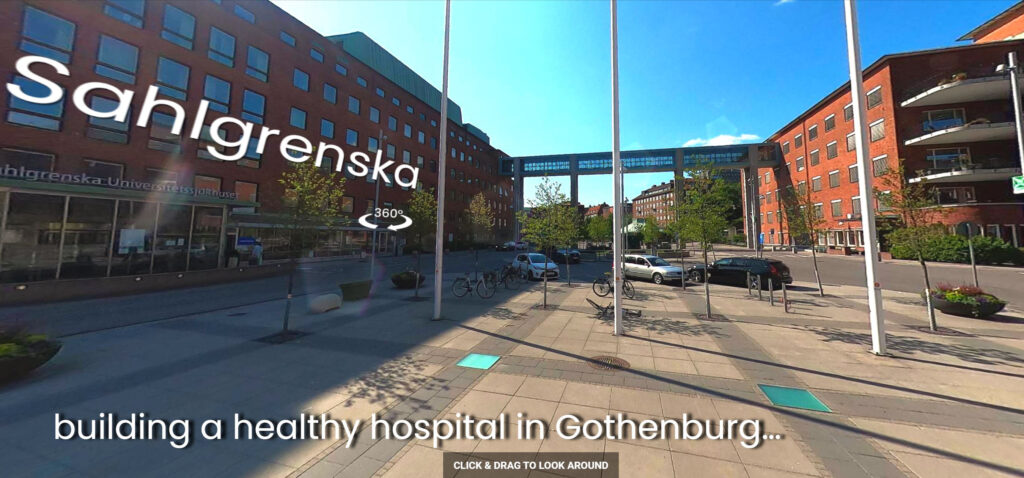 A health-promoting hospital in Gothenburg, Sweden
UrbanCare,
a practical framework to develop regenerative landscapes
for public health and energy management
Alvaro Valera Sosa (2021)
BHL Building Health Lab
Alvaro Valera Sosa: Conceptualization, Methodology, Investigation, Analyses
a.valera.sosa@buildinghealth.eu
BHL Building Health Lab
Alvaro Valera Sosa: Original draft, Writing-reviewing, Editing, Design, Administration.
Netra Naik: Original draft contribution; Software, Data curation.
Julia Reißinger: Software, Data curation.
Links and sources of interest
1. https://www.completecommunitiesde.org/planning/complete-streets/walkable-communities
2. https://www.fuss-ev.de/planung-regeln-sicherheit
3. https://www.tagesspiegel.de/berlin/kiezbummel-in-berlin-prenzlauer-berg-das-boetzowviertel-hat-grund-zum-feiern/8700982.html
4. https://www.stadtentwicklung.berlin.de/nachhaltige-erneuerung/aktuelles/prenzlauer-berg/artikel/ausstellung-sanierungsgebiet-boetzowviertel-eroeffnet
5.https://fbinter.stadtberlin.de/fb/index.jsp?loginkey=zoomStart&mapId=k_vms_tempolimits_spatial@senstadt&bbox=385546,5818090,396644,5824313
6. https://www.morgenpost.de/bezirke/pankow/article232525871/Prenzlauer-Berg-Hufelandstrasse-wird-zur-Fahrradstrasse-Hufelandstrasse-wird-Fahrradstrasse.html
7. https://www.prokiez.de/
8. https://www.berlin.de/sen/uvk/en/traffic/transport-policy/berlin-mobility-act/
9. https://www.prokiez.de/mitmachen/
10. https://www.fuss-ev.de/
11. https://www.hrw.org/news/2021/07/01/germany-inaction-heat-plans-threatens-health
12. Li, X. L. (2019). Urban heat island impacts on building energy consumption: a review of approaches and findings. Elsevier, 1–43. https://www.sciencedirect.com/science/article/pii/S0360544219303895
13. https://www.bmu.de/en/topics/water-resources-waste/water-management/policy-goals-and-instruments/water-protection-policy-in-germany
14. https://www.hcu-hamburg.de/research/forschungsgruppen/reap/reap-projekte/bluegreenstreets/
15. Jekel and Sieker. (2010). Technical University of Berlin Dept. of Water Quality Control, Rainwater management for urban drainage, groundwater recharge and storage. https://www.hmw.tu-berlin.de/fileadmin/i41_hmw/12_DAAD_Rainwater-Jekel-Chile2010.pdf
16. Senate Department for Urban Development and the Environment and Chamber of Commerce and Industry of Berlin. (2014). Business in Berlin Supports Biodiversity Recommendations for Action – A Guide. https://www.berlin.de/sen/uvk/_assets/natur-gruen/biologische-vielfalt/publikationen/leitfaden_biologischevielfalt_englisch.pdf
17. https://www.museumfuernaturkunde.berlin/en/science/research/society-and-nature/biodiversity-policy-lab
18. Parris. (2018). The seven lamps of planning for biodiversity in the city. Cities. Published. https://doi.org/10.1016/j.cities.2018.06.007


Pedestrian planning for Urban Health!